Patrick Piggott: Stolen van river death 'misadventure'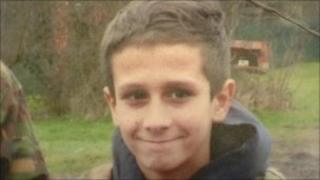 The death of a teenage boy whose body was found in a stolen van the day after it crashed into a river in Derbyshire was misadventure, a coroner has ruled.
Patrick Piggott, 14, was found dead in the van after it crashed into the River Derwent near Raynesway, in July 2010.
Two men who escaped but failed to tell anyone the boy was trapped inside told the inquest they had been too scared to raise the alarm.
The coroner said it had not been possible to say who had been driving.
Robert Hunter said on the evidence heard it was not possible to "state on the balance of probabilities who was driving", so that element should remain open.
'Like washing machine'
Paul Berridge, 26, and Leigh Walters, 19, were sentenced in January 2011. They admitted being carried in the vehicle taken without consent in the incident which led to Patrick's death.
Berridge, from Derby, was jailed for two years and Walters, from Mansfield in Nottinghamshire, was given 20 months in a young offenders' institution,
They both gave evidence to Monday's inquest. Walters said had been too scared to confess he had failed to raise the alarm, following death threats from the dead boy's family.
Berridge described being underwater in the van as like "being in a washing machine".
He said he felt: "You'll be damned if you do and damned if you don't (raise the alarm)... I'm thinking, 'I'm going to prison for this', I was just being selfish."
The court was told in 2011 that Patrick took the Ford Escort van from Spencer Street, Alvaston, and picked up his best friend Walters and then Berridge, another friend.
He drove the van at 40mph along the path next to the river but lost control and the vehicle plunged into the water, the court heard.
A woman saw Walters and Berridge climb up the bank and out of the water but they failed to mention Patrick was still in the van. The next day the alarm was raised and his body was found.
Walters' mother Dawn told the inquest she was ashamed she had done nothing when her son told her what had happened.
Ms Walters said: "I felt pressurised into not doing anything. I felt very frightened."
She also said her son was sorry for what had happened and knew they both should have raised the alarm sooner.