Environment Agency warns of flooding in Derbyshire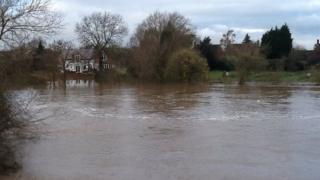 Flood warnings remain across parts of Derbyshire after heavy rain over the weekend.
The Environment Agency (EA) has issued warnings for stretches of the River Derwent and the River Dove in parts of the county.
The agency has warned residents in flood-prone areas to watch water levels closely.
There are almost 300 flood warnings and 300 flood alerts in England and Wales, and two flood alerts in Scotland.
Paul Lockhart, from the EA, said: "The greatest risk is on the main rivers - so the River Dove, the Derwent and the Trent.
"As that water comes into the system they will start rising, so people need to stay vigilant for the next few days."