Derby velodrome work set to start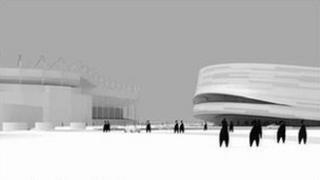 Work on Derby's velodrome is set to start, the city council has confirmed.
Contracts have now been signed between Derby City Council, the contractors and Sport England who have invested £3m in the project.
As well as a velodrome, the £28m facility will house a 12-court sports hall and a gym, on the site of a former landfill site near Pride Park Stadium.
A groundbreaking ceremony is taking place on Thursday with construction due to start on 26 November.
Job creation
Sport England's chairman Richard Lewis said: "There will be a fantastic sporting experience on offer for everyone at the arena, from a world-class velodrome to a 12-court sports hall.
"No project received a larger investment from our Olympic and Paralympic legacy fund and I'm confident this facility will be a source of pride for the region where local people will be inspired to develop a sporting habit for life," he said.
Derby City Councillor Martin Repton said: "This represents a multimillion-pound investment, which in these difficult times will create many temporary, part-time and full-time jobs."
Labour-run Derby City Council decided to proceed with the project, inherited from the former Conservative/Lib Dem coalition administration, in July.
Contractors Bowmer and Kirkland will be building the velodrome and construction of the 5,000-seat facility is expected to take between 18 and 24 months.