Residents in Denby angry over solar panels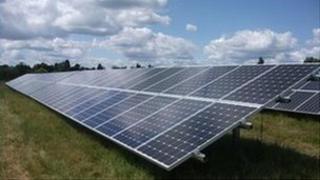 Residents in a Derbyshire village are fighting plans for a large solar farm near their homes.
The proposals for Street Lane, Denby, will see up to 7,000 solar panels installed on 100 acres of farmland.
Applicant energy firm Sona UK said more needed to be done to meet growing energy needs and to promote using renewable and low carbon sources.
However, villagers say the panels will spoil the countryside and have asked why they have to go on greenbelt land.
Resident Sean Knighton said: "Surely there's brown field sites or industrial sites that could be used first.
"What's wrong with putting the panels on top of industrial buildings?"
Residents in the village, which is near Ripley, have also raised concerns about the scale of the development, loss of footpaths in the area and a possible glare for drivers on the A38.
25-year lifespan
Stephen Wiseman, from Sona UK said he was surprised by the amount of objection in comparison to other parts of the country where the panels had been installed.
He said: "We are not trying to put up something that is going to dramatically impact on residents.
"We are here to listen and help the public understand what we are trying to to do."
Mr Wiseman said the solar farm would be covered by hedgerows to "reduce visible impact" and reassured residents the panels were designed to absorb sunlight rather than reflect it so as not to cause a glare for passing motorists.
Sona UK would be paid by the government for the electricity generated and said the installation would have a lifespan of 25 years, after which the panels would be removed.
The firm said it drew up the plans along with two other companies - Freetricity and Anesco.
A decision on the proposals will be made by Amber Valley Borough Council in February 2013.