Chatsworth: First Queen's Diamond Jubilee tree planted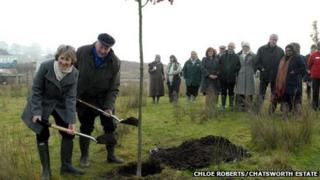 The first of 40,000 trees has been planted on Derbyshire's Chatsworth Estate to mark the Queen's Diamond Jubilee.
It was planted by the Duke and Duchess of Devonshire as part of a Woodland Trust scheme to plant six million trees across the UK.
The forest at Chatsworth will cover an area of 60 acres (25 hectares).
The project is backed by the Forestry Commission, which is spending £155,000 to create new habitats for birds.
The Duke of Devonshire said he was "proud" that Chatsworth had been chosen as a Diamond Wood site.
He said: "Our work over the coming years will prime the canvas for future generations living and working at Chatsworth, to develop a rich and diverse native woodland."
He added that the scheme would encourage bird species to re-establish themselves after years of decline in the region.