Derbyshire PCC elections: Labour's Alan Charles wins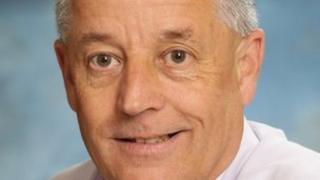 Labour's Alan Charles has been chosen as Derbyshire's first police and crime commissioner (PCC).
He beat the Conservative candidate Simon Spencer after second preference votes were counted when neither managed to get 50% of votes.
Mr Charles will be responsible for setting priorities for the force and overseeing its budget.
He received a total of 57,248 votes after both rounds, with Mr Spencer getting 36,469 votes.
The other Derbyshire candidates were David Gale, from the UK Independence Party, and Independent Rod Hutton.
Just 14.4% of the electorate voted.
'Keep policing public'
Mr Charles said: "We know it was a low turnout but I think we did get our message across and won by a pretty significant margin.
"I think what people voted for, was both knowing me and my track record, but also for the polices that I've put forward in my manifesto."
During his victory speech Mr Charles threw a wristband he had been wearing during his campaign.
It had the words "Keep policing public" printed on it.
He said: "It was the main part of my campaign - I was saying very clearly that I would not allow any police support services in Derbyshire to be privatised.
He added: "I've been wearing it for about three months and don't need to wear it now I'm commissioner."
As part of his manifesto, Mr Charles said "no G4S-type privatisation" and "protecting vulnerable people" were promises he would deliver.