Sinfin incinerator faces new legal challenge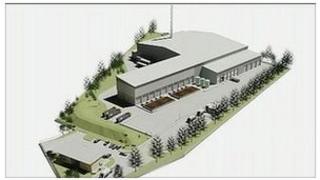 A new legal challenge to a waste incinerator in Derby has been launched.
The plant on Sinfin Lane was given final approval in September following two planning appeals by developer Resource Recovery Solutions (RRS).
It would burn 190,000 tonnes of waste a year from across the county but some residents said they were concerned about pollution and extra traffic.
Now campaigners have confirmed they have lodged a High Court challenge to the latest planning inspector's ruling.
Simon Bacon, chairman of Sinfin, Spondon and all Against Incineration (SSAIN), said they were focusing on the September decision by planning inspector Alan Robinson.
In a statement, Mr Bacon said lawyers had reviewed the inspector's ruling.
"The returned legal opinion was that there was a case to be made against the ruling.
"To this end a challenge was issued at the High Courts of Justice in London," he said.
The RSS proposal is part of a contract with the city and county councils to handle household waste.
The plant would slowly heat material to produce a gas that could be burned to create electricity.