Liverpool Care Pathway death prompts 'torture' claim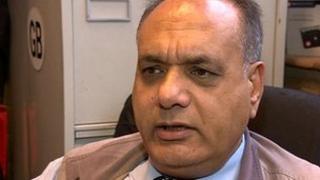 Care given to a terminally ill woman at a Derby hospital has been compared to "torture" by her family.
Pritnam Kaur Ghuman died last week after a stroke but her son said it was cruel to deny her food and water.
In Nottinghamshire, the family of Philip Charlesworth claim he was put on the same end of life programme without their knowledge.
Both the Royal Derby and King's Mill Hospitals said the Liverpool Care Pathway is designed to limit distress.
The Liverpool Care Pathway (LCP) is a set of guidelines which prompts regular reviews of the treatment given to terminally ill patients.
Sick animals
While this can mean the withdrawal of some intervention, medical professionals insist it is never used to hasten death.
But some families claim it has lead to food and water being withheld and relatives could have lived for far longer.
Paul Ghuman, who lives in Derby, said he was shocked at the care given to his mother: "To me it is a form of torture. It is a lingering death and you are increasing the torture by denying them the food and drink and drips and medication.
"We don't leave animals which are sick just to die without medication, we don't just leave them to die of their own causes, so why do that to humans?"
'Natural death'
Maelie Swanwick, a consultant in palliative care at Royal Derby Hospital, said: "We are trying to minimise medical intrusion.
"So for patients who perhaps would have preferred to die at home but for whatever reason find themselves dying in hospital, we want to make it a natural death and the best possible death for that person and their family."
Philip Charlesworth, 82, from near Southwell, went into King's Mill hospital suffering from suspected pneumonia, in January.
His daughter Denise Charlesworth-Smith described the LCP as "legalised euthanasia" and insisted they were never consulted about its use.
"There are four criteria for putting someone on the Liverpool Care Pathway which are; that they are bedridden, they are comatose, they can't have a conversation with somebody and they can't swallow to take tablets or liquid," she said.
She added her father was not bedridden or comatose and could hold a conversation and swallow.
"You put your trust in doctors who you think know best but now I feel as if I murdered him because I might have done more," she said.
Bosses at the Sherwood Forest NHS Hospitals Trust who run King's Mill said the family had not raised their concerns directly but they would be happy to meet with them.