PCC candidate Rob Lane out of race after traffic jam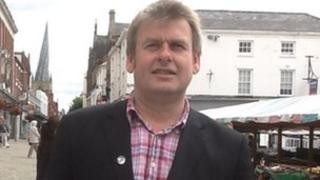 An independent candidate for Derbyshire police commissioner is out of the election after a traffic jam led to him missing the deadline for deposits.
Rob Lane had arrived in Ripley to register on Friday but his £5,000 cash deposit was being brought in another car which got held up in traffic.
It arrived 15 minutes after the deadline but Mr Lane said the returning officer would not accept the payment.
Mr Lane said he was "hugely disappointed" at not being able to run.
He said: "I arrived in Ripley to place my nominations at 10. I was expecting my deposit to arrive in good time for the noon deadline but traffic chaos as a result of the burst water main affecting the area around Ripley meant it arrived late."
Mr Lane, a secondary school teacher, said he tried to find an alternative payment method but election rules stated only cash or a bank draft were permitted.
'Voice for victims'
He said: "Because of the situation with the emergency in the area, the returning officer could have invoked his discretion to accept a credit card payment. Sadly he declined."
John Grady, deputy police area returning officer for Derbyshire, said: "All potential candidates were advised at briefings and in writing to submit nominations early for informal checking by the police area returning officer.
"The 12 noon deadline for nominations is set by statute. Assistance is offered to candidates, particularly those who are not familiar with the electoral process, but the returning officer has no power to consider nomination papers after statutory deadlines, which cannot be relaxed."
Mr Lane said he would be returning the deposit to donors but hoped to continue providing a "voice for victims" in some capacity.
The remaining Derbyshire police candidates are Alan Charles for Labour, David Gale of the UK Independence Party, Independent candidate Rod Hutton and Simon Spencer for the Conservatives.