Derbyshire PCC candidate Charles Swabey withdraws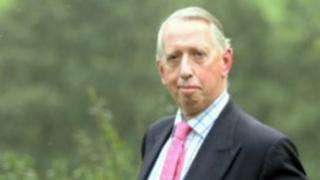 An Independent candidate who had hoped to become Derbyshire's first police and crime commissioner (PCC) has withdrawn from the race.
Charles Swabey, from Osmaston near Ashbourne, pulled out only days after submitting his application.
The former UKIP politician said he did not want to divide the Independent vote.
Elections for PCCs are being held on 15 November.
The other candidates running for the Derbyshire role are Alan Charles for Labour, David Gale of the UK Independence Party, Independent candidate Rod Hutton and Simon Spencer for the Conservatives.
Mr Swabey had entered the race only a few days before the deadline for candidates closed on 19 October.
PCCs will replace police authorities in 41 areas following elections on 15 November.
They will have powers to hire and fire chief constables and set police force budgets.