Crews still at Stanton-by-Dale recycling plant fire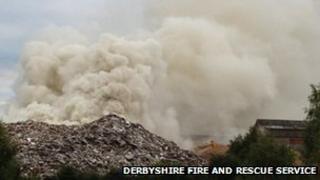 The fire service is still attending to a fire at a recycling plant in Derbyshire which started over three weeks ago.
Crews have been visiting the site in Lows Lane, in Stanton-by-Dale, since about 8,000 tonnes of material caught alight on 15 September.
It is thought another 400 to 500 tonnes of material still has to burn.
Derbyshire Fire and Rescue said it had been a difficult fire to put out completely but it is under control.
Contaminated water
Area manager Gavin Tomlinson said: "We can't put it out with water because it runs straight off and back into the water course.
"We can't pull it apart because the heat coming off it is too much for the diggers to work in and it puts them at risk of fire, and the workmen."
Thick black smoke drifted across the M1 following the fire, and residents living near the scene were advised to keep their doors and windows closed.
Hundreds of fish died in a nearby Erewash Canal after oxygen levels in the water dropped dramatically.
The Environment Agency had to reintroduce oxygen in the canal to prevent more fish from dying due to the contaminated water.
The cause of the fire is still under investigation.