Frazer's House will help families of young hospital patients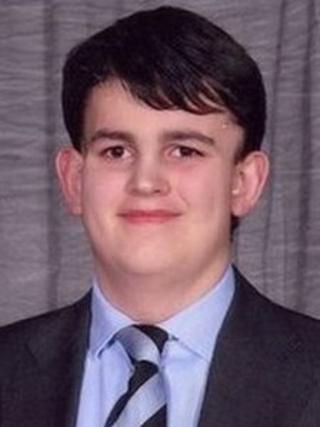 The parents of a Derby man who died of a brain tumour are raising money for a home where parents of young hospital patients can stay.
Chris and Biba McDermott lived in hotels while their son Frazer, 20, was treated at the Queen's Medical Centre in Nottingham for five months.
Frazer's House will offer free accommodation near the hospital and cater for families across the Midlands.
The charity then hopes to build similar houses near hospitals across the UK.
About 140 people took part in a fun run at Darley Park, Derby, earlier.
Lost his sight
Mr McDermott said: "It would be nice to get a Frazer's House near every hospital.
"This is catering for people in the Midlands rather than people in Nottingham.
"Nottingham are a brilliant neurosurgery department so if you live in Lincolnshire or Leicestershire you would have to go to Nottingham."
Frazer, from Littleover, was born with a brain tumour and was treated at Birmingham Children's Hospital for most of his life.
The tumour caused him to lose his sight so he attended RNIB College Loughborough.
He was treated at the Queen's Medical Centre from 2010 and spent five months there from April 2011.
He went home from hospital on 13 September 2011 and died two hours later.
Mr McDermott said moving from hotel to hotel during Frazer's treatment was "horrible", and can be a financial burden for many families.
Frazer's House will also enable families to support each other emotionally when they are going through similar experiences.
New Basford College in Nottingham has a house which the charity will use for a year from 14 December, and the college's students are helping to renovate it.
The charity wants to build or buy a permanent base within walking distance of the hospital.
The charity has raised about £40,000 so far and has more fundraising events planned.