Danny Vallory search: Distinctive hat could be key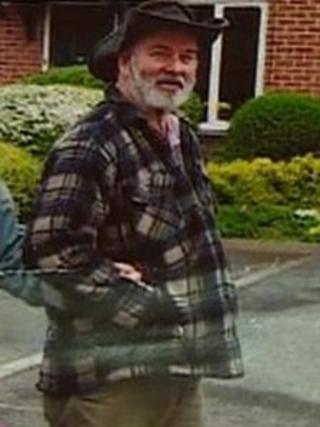 Police hope someone will recall seeing a missing Derbyshire man because of his distinctive hat.
It is a week since Danny Vallory, 58, left his house boat at Shardlow Marina and walked to the nearby post office to buy newspapers.
Police are speaking to local anglers and post office customers to see if they remember seeing him last Saturday.
Mr Vallory's wife, Georgina, said the former publican was happy and had no reason to disappear.
Det Sgt Phil Bott, from Derbyshire Constabulary, said: "It may be that people recall having seen somebody fitting his description slightly further afield.
"He does wear a distinctive hat all the time and that does seem to be something that people locally talking to us say that's the thing about Danny they recognise, so we are hoping that will jog people's memories."
CCTV footage has been released which shows Mr Vallory in the post office at about 07:20 BST, before leaving and walking off in the direction of the marina.
Mr Vallory is white, 5ft 10in tall, of medium build, with a bald head and white beard.
As well as his Australian-style dark olive green hat, he was wearing a dark t-shirt, cream jacket and khaki green trousers.