Danny Vallory 'was enjoying life' before going missing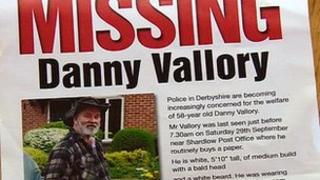 The wife of a missing Derbyshire man has said he had no reason to disappear.
Danny Vallory, 58, was last seen on Saturday morning at the post office close to Shardlow Marina, where he lived on a narrowboat.
Police, along with divers and mountain rescue volunteers, have been searching the marina and carrying out house-to-house inquiries.
Georgina said the former publican had been recently been talking about enjoying his life.
Mr Vallory is white, 5ft 10in (1.78m) tall, of medium build with a white beard and was last seen wearing a dark green hat. He had been to buy his paper.
Mrs Vallory said: "He only said in the week 'I'm such a lucky man. I've got you, the cat and I can have a pint at the quiz. I'm such a lucky man'.
"And now I can't believe he is not here. We are desperate to have him back."
Police have appealed for anyone with information to come forward.