Stanton-by-Dale fire out after six days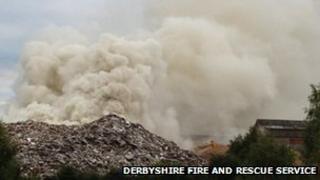 Fire crews have finished damping down at a recycling plant fire in Derbyshire that started six days ago.
The fire at the plant in Stanton-by-Dale near the Nottinghamshire border involved 8,000 tonnes of sawdust and wood.
More than 65 firefighters battled the fire at its peak when smoke from the blaze could be seen for miles around.
Hundreds of fish died in a nearby Erewash Canal after oxygen levels in the water dropped dramatically.
Contaminated
The fire service has been working with the Health Protection Agency and the Environment Agency to deal with pollution from the fire at the former ironworks on Lows Lane.
A Derbyshire fire service spokesman said a pump was being used to remove contaminated water from the canal.
An Environment Agency spokesman said workers were also injecting hydrogen peroxide into the canal to increase the oxygen levels.
Smoke from the fire caused delays between Junctions 25 and 26 of the M1 on Saturday and Sunday.
All roads in the area have reopened, a Derbyshire Fire and Rescue spokesman said.
The cause of the fire is still under investigation.