Peak District green lane access consultation begins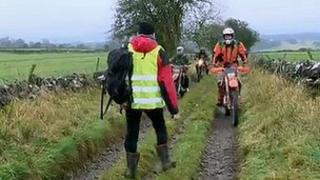 Consultation over new restrictions for vehicles in part of the Peak District has begun.
The park authority is considering banning trail-bikes, quad bikes and 4x4s from unsurfaced roads at Long Causeway and Roych Clough.
Some conservationists have concerns over erosion but motoring groups claim the move is unfair.
The consultation, which is focussed at the public and special interest groups, will run until 2 November.
In March, the park authority announced it would monitor 27 unsurfaced roads in the national park for use by 4x4s and off-road bikes.
Popular destination
Then in June it consulted statutory bodies on possible limits.
The proposals have already prompted protests from off-road groups who said it was unfair to ban all vehicles from public places.
But walkers claim the routes are suffering from overuse.
The park, which attracts more than 10 million visitors a year, has land located in Derbyshire, Staffordshire, West Yorkshire, Cheshire and South Yorkshire.