Derbyshire PCC hopeful Rob Lane focuses on victims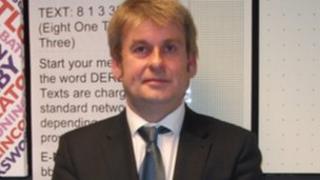 A teacher who hopes to become Derbyshire's new police commissioner has promised to provide a "voice for victims" if elected.
Rob Lane, from Derby, is standing as an independent candidate in November's elections.
He said he was inspired to stand after being disappointed by the police's response to an ongoing harassment complaint involving a couple he knows.
His vision is to become a "critical friend" to the force's chief constable.
Police and crime commissioners will be elected to replace police authorities in 41 areas across England and Wales on 15 November.
'Ordinary person'
Mr Lane, who has been a teacher for more than 20 years, said: "There's a personal element to this which is an ongoing series of incidents I've witnessed over the past three years and the police response to those incidents.
"I found it questionable. We're talking about three years of harassment. This couple have been subject to a number of covert attacks and more extreme attacks."
He said his focus would be on "victims and witnesses of crime and the extent to which they are being supported by police".
He said he hoped he would appeal to "anyone who thinks: 'Yes - it's time that an ordinary person was elected to this kind of office - an ordinary person who can truly represent the public in holding the police to account'.
"An early priority would be to build a positive relationship with the chief constable. I don't think there's any harm in having a critical friend."
His rivals for the role are Alan Charles (Labour), Rod Hutton (independent) and Simon Spencer (Conservative).