Fish concern after Stanton-by-Dale recycling plant fire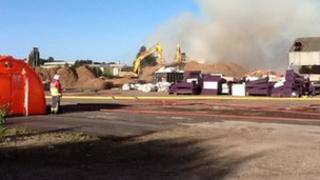 Environment Agency staff are working to save fish in a Derbyshire canal which are threatened by firefighting operations at a recycling plant.
About 8,000 tonnes of wood and sawdust at the centre in Lows Lane in Stanton-by-Dale, near Ilkeston, has been burning since Saturday night.
The agency said run-off water from the fire-fighting operation was reducing oxygen levels in the Erewash Canal.
It said it was now manually reintroducing oxygen into the canal.
Fire crews expect to remain on site for at least another 24 hours.
Overnight operation
Paul Reeves, from the Environment Agency, said: "The main concern we have at the moment is the quantity of run-off which has been generated because of the amount of water the fire service is applying to the fire.
"This run-off is contaminated and is giving rise to problems with reduced oxygen in the Erewash Canal and Stanton Lock.
"We could be looking at quite a number of fish dying but we have been working all day yesterday [Monday] and throughout the night dosing the canal with hydrogen peroxide which we use to artificially reintroduce oxygen back into the water.
"Early indications are we were being quite successful yesterday and we will continue that today."
Mr Reeves said there was no danger to the public from the smoke fumes.
He said: "The materials that are actually on fire aren't classed as particularly hazardous but anybody who's particularly susceptible to smoke needs to avoid the area if they can."