Derbyshire police candidate Simon Spencer pledges crime crack down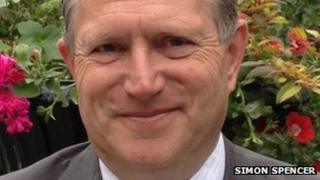 The deputy leader of Derbyshire County Council said he will crack down hard on crime if elected for the role of police and crime commissioner.
Conservative candidate Simon Spencer has been involved in politics for 19 years and has twice stood as a Parliamentary candidate.
He is up against Labour's Alan Charles and two independent candidates, Rob Lane and Rod Hutton.
Mr Spencer said he would work hard to stop anti-social behaviour.
'Real say'
The former firefighter said: "Over the next four years there is a big job to do to support the local police force to carry out their job properly.
"Derbyshire needs a strong voice standing up for residents and businesses and put the public - not the criminals - at the heart of the criminal justice system," he said.
His plans include making the police force more accountable and giving the public a real say in how the service is run.
The commissioner, who will replace Derbyshire Police Authority, will have the power to choose chief constables and is expected to hold officers to account.
The person in the role will also be asked to help develop strategies for cutting crime.
On 15 November 37 police and crime commissioners will be elected in England along with four in Wales.