Meynell and Staffordshire hunt in National Trust ban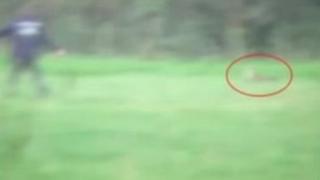 The National Trust has banned the Meynell and South Staffordshire Hunt from its land in Derbyshire following a fox-hunting court trial.
Hunt master John Greenall, 52, from Wootton, Derbyshire and Glenn Morris, 44, of Tutbury, Staffordshire were found guilty of fox hunting in August.
The National Trust confirmed it has refused to grant a licence for land at Kedleston, Calke Abbey and Ilam.
Campaigners set up a petition urging the National Trust to ban the hunt.
The trust, which grants licences to use its land on an annual basis, has decided not to allow the hunt to use the land for the 2012-13 season.
The campaigners who filmed the hunt had hidden in a wood in Sutton on the Hill, Derbyshire, in October.
Mr Greenall was fined £3,000 and Mr Morris was fined £250.
The footage obtained by the two campaigners was shown as evidence at Southern Derbyshire Magistrates' Court during a two-day trial.