Former special constable runs for Derbyshire police job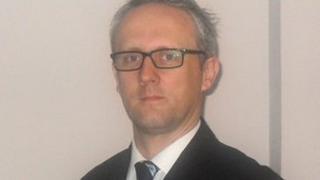 A former special constable is standing as an independent candidate to be police and crime commissioner (PCC) in Derbyshire.
Businessman Rod Hutton is the fourth person to put himself forward for the role.
He is up against Labour's Alan Charles, Conservative candidate Simon Spencer and independent Rob Lane.
Mr Hutton said, if elected, he would make sure the concerns of local people were heard and acted upon.
"My experience working with the police service is important but listening to what communities are asking for is vital to the role," he said.
Mr Hutton, who served with the Metropolitan Police in London for 19 years, is funding his own campaign.
The Ripley businessman said: "This role certainly needs a lot of commitment and because I'm not part of a political party I don't have access to the resources and the exposure that the Labour and Conservative candidates have.
"Therefore, I need to show some willing - so I need to at least put up the value of the deposit in order to get this campaign going."
The commissioner, who will replace Derbyshire Police Authority, will have the power to choose chief constables and is expected to hold officers to account.
On 15 November 37 police and crime commissioners will be elected in England along with four in Wales.