Police and crime commissioner elections: Derbyshire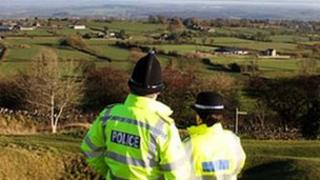 On 15 November 37 police and crime commissioners will be elected in England along with four in Wales.
The PCCs, as they will be known, will be tasked with scrutinising their force and holding it to account. They will also be able to hire and dismiss the chief constable and set the force's budget.
The commissioners will be paid and are supposed to empower local people into having a say on how crime is tackled in their area.
Nominations for candidates in Derbyshire have now officially closed.
BBC News has taken a look at each of the police forces ahead of the elections.
Derbyshire Police
Derbyshire Police covers an area of more than 1,000 square miles and serves almost one million people living and working in the county.
The area stretches from the rural High Peak Derbyshire Dales to the city of Derby. It also includes mining villages and market towns.
The force said its local priorities were to:
Protect the vulnerable
Attack criminality
Provide reassurance
Prevent and reduce crime
Deliver value for money
Derbyshire has three main policing areas, known as divisions - High Peaks and Derbyshire Dales; Chesterfield, North East Derbyshire, Amber Valley and Bolsover; and Derby, Derby South and Erewash.
Each division is run by a chief superintendent, also known as the divisional commander.
Derbyshire Police has more than 1,900 police officers and more than 1,400 police staff.
The force is led by a team of chief officers headed by Chief Constable Mick Creedon.
Funding
In 2010 it was confirmed by the government that Derbyshire Police would have to make savings of £21m by 2015.
In Derbyshire Police's financial overview, published in July 2012, the force said: "Over the last three years, the prime financial focus has been on the unprecedented financial challenge facing Derbyshire Constabulary and indeed the rest of the policing service.
"As a result, Derbyshire has now substantially closed its funding gap. This sound financial position has only been achieved as a result of some tough choices.
"No police officer recruitment took place between October 2010 and April 2012. Our police establishment has already reduced by some 150 officers.
"Similarly some 250 police staff posts have been deleted from the establishment."
Crime and performance
In 2011-12, according to the Office of National Statistics, Derbyshire Police recorded 61,483 crimes in the county.
According to the force, crime levels across the county have fallen for the ninth year in a row.
The force said its end-of-year figures published in April 2012 showed violent crime fell by 15% compared to the previous year, domestic burglary by 12% and criminal damage by 10%.