Peak District green lane access limit prompts dispute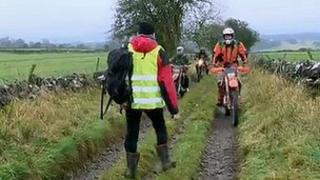 Possible restrictions on off-road vehicles in the Peak District have led to protests from campaigners.
The park authority is considering whether traffic should be banned on some of its unsurfaced roads on Long Causeway and Roych Clough.
Concern focuses on damage to the lanes and disruption to walkers and animals.
But the Trail Riders Fellowship said they feared this would lead to a total ban on vehicles in the park which they feel should be open to all.
The fellowship has organised go-slow protests on main roads to illustrate how they drive in the park.
'Tremendous hammering'
Richard Simpson, from the group, said: "These are not access roads, they are for recreational use. We enjoy the countryside by riding carefully and responsibly on the green lanes.
"In Derbyshire there are 9,560 rights of way, 21 of these are open to all traffic and they want to take two away. That is not right or proportionate."
Patricia Stubbs, who is from the Peak District Green Lanes Alliance, which campaigns to limit vehicle access, said the lanes were taking a "tremendous hammering".
She said: "Off-roading is increasingly popular and throughout the Peak District there are really severe problems of erosion of these green lanes and other people, horse riders and walkers being put at serious risk.
"It's not the case that all trail riders drive responsibly - a lot of residents in the area feel themselves driven off these lanes."
In March, the authority announced it would monitor 27 unsurfaced roads in the national park for use by 4x4s and off-road bikes.
Then, in June, it consulted statutory bodies on possible limits.
Another public consultation would begin shortly and all interested parties would be kept informed, a park spokesman said.
The park, which attracts more than 10 million visitors a year, has land located in Derbyshire, Staffordshire, West Yorkshire, Cheshire and South Yorkshire.