Arrest follows Street View caravan theft appeal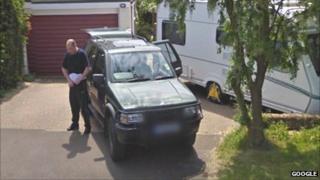 A man has been arrested over the theft of a caravan three years ago after police reopened the case when a Google Street View image came to light.
The caravan was taken from the driveway of a house in Linton, Derbyshire, in June 2009.
Initial inquiries yielded no results but the case was reopened in March 2010 when the caravan's owner spotted the image on Google.
A man from Coventry, 49, was arrested on suspicion of theft and bailed.
Derbyshire Constabulary said extensive inquiries, supported by West Midlands and Warwickshire police forces, led to the arrest.
The theft, on Cauldwell Road, took place some time between 09:30 BST and 14:00 BST on 5 June 2009.
The image showed a 4x4 parked near the caravan with a man standing next to it.
It was thought the car in the Street View image could have been passing shortly before the theft and police circulated the photo in March 2010 to appeal for help from the public.
Wheel clamps securing the white Abbey Adventura were removed and left behind during the theft, but despite forensic examination of the scene, the stolen vehicle was never traced.