Police commissioner candidate Alan Charles reinstated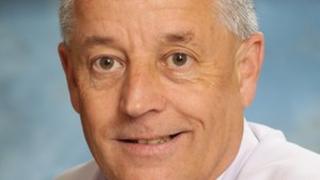 Labour has reinstated its candidate for Derbyshire police commissioner four days after he pulled out because of a 47-year-old criminal offence.
Alan Charles stood down after being told a conditional discharge, given when he was 14, barred him running.
Home Office rules block anyone from standing who has been convicted of an offence for which a person could be sent to prison.
Lawyers have now advised Labour Mr Charles's offence does not count.
The Police Reform and Social Responsibility Act 2011 disqualifies a person from standing for election as a police and crime commissioner (PCC) if they have, at any time, been convicted of a prisonable offence.
Mr Charles, who has never revealed any details about his offence except to say it was minor and committed 47 years ago, announced he was standing down on Friday after taking advice.
Now Labour East Midlands has said it had been advised by a barrister and legal experts that the decades-old offence would not disqualify Mr Charles from the role after all.
BBC home affairs correspondent Danny Shaw said he understood Labour's lawyers had advised them the ban on candidates convicted of imprisonable offences did not apply to conditional discharges received as a juvenile.
A Labour spokesman said: "Due to a distinct lack of clarity from the Home Office we have sought further legal advice on behalf of Alan Charles, and it has become clear that he is eligible to become a Police and Crime Commissioner (PCC) candidate.
"Therefore Alan Charles is Labour candidate for PCC in Derbyshire.
"The Labour Party has written to the Home Office calling for them to urgently provide more information and much greater clarity on the interpretation of their legislation for all involved in these elections."
Last week Labour's Bob Ashford said a crime committed when he was 13 had blocked him from the candidacy in Avon and Somerset.
And in July, Falklands veteran Simon Weston withdrew from elections for the post in south Wales after doubts were raised about him being convicted and fined for being a passenger in a stolen car when he was 14.
PCCs will replace police authorities in 41 areas following elections on 15 November.
They will have powers to hire and fire chief constables, set police force budgets and commission some criminal justice services.