Two found guilty of illegally hunting foxes with dogs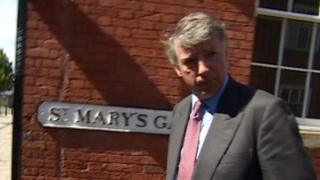 A hunt master and one of his staff have been convicted of illegally hunting fox cubs with dogs after they were filmed by campaigners.
The campaigners hid in a wood in Sutton on the Hill, Derbyshire, to film the hunt in October.
Hunt master John Greenall, 52, of the Meynell and South Staffordshire Hunt and from Wootton, Derbyshire, was fined £3,000.
Hunt worker Glenn Morris, 44, of Tutbury, Staffordshire, was fined £250.
The footage obtained by the two campaigners was shown as evidence in court.
Fox expert Professor Stephen Harris told the court that, in the video, the excited squeals of foxhounds could be heard inside the wood.
He said: "That sound is, they've found a fox, it's fresh, they're on top of it."
The defence had argued the dogs were exercising, following artificial scent.
Both men were found guilty of hunting a wild mammal with a dog at Southern Derbyshire Magistrates' Court after a two-day trial.
District Judge Caroline Goulborn said that, during a police interview, Greenall had given an innocent explanation about what had been happening that day.
However, as he had not been willing to give evidence in his own defence, she said "perhaps that innocent explanation would not bear scrutiny".