Team GB cycling coach Dave Brailsford offered freedom of Erewash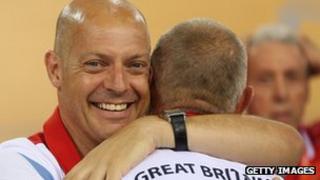 Team GB's cycling director has been offered the freedom of a Derbyshire borough in recognition of his achievements at London 2012.
Dave Brailsford, who lives in Ilkeston, has been credited with masterminding the cycling team's 12 medals at the Olympics.
The honour also recognises his role in Bradley Wiggins's Tour de France win.
Erewash Borough Council has only ever presented the award once, to the Mercian Regiment in 2007.
Scroll and casket
Councillor Chris Corbett, the leader of the authority, said: "On behalf of all the residents of Erewash, we want to show Dave how proud we are of his and his team's success.
"A freedom of the borough award is very rarely bestowed on anyone and must only be awarded to someone who has achieved something outstanding."
If Mr Brailsford, who was born in Derby but grew up in north Wales, accepted the honour he will receive an ornate scroll and casket and a medal.
Mr Corbett said he expected unanimous support for the move when it goes to a vote at a meeting in October.