Dovedale stepping stones closed as two 'dislodged'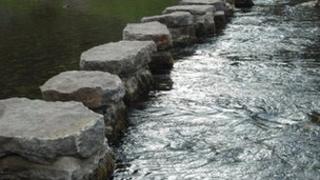 Walkers at a Derbyshire beauty spot are unable to access a set of famous stepping stones after recent flood water moved two of them.
The National Trust said the Dovedale stepping stones would remain "closed" until they could be repaired.
A spokesperson said they had been "dislodged" after debris such as tree branches had collected behind them.
Derbyshire County Council said "unprecedented on-going heavy rainfall" had risen above the stepping stones.
Two years ago the stones controversially had limestone blocks cemented on top, which the trust said had improved their condition and made them more accessible to Peak District visitors.
The crossing, which is made up of more than a dozen slabs, was immortalised by Izaak Walton in his famous 17th Century fishing book, The Compleat Angler, and has featured on postcards of the Peak District.