Derby fire deaths: More time to question parents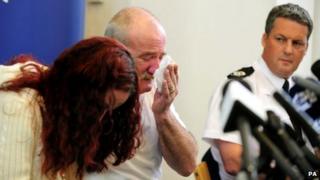 Police have been given another 12 hours to question the parents of six children killed in a house fire in Derby.
Mick Philpott, 55, and his wife Mairead, 31, were arrested on suspicion of murder on Tuesday morning.
Five children, aged between five and 10, died in the blaze at their home on Victory Road on 11 May. Duwayne, 13, died three days later in hospital.
A number of people have since come forward with "extremely useful" information following a police appeal.
Assistant Chief Constable Steve Cotterill, from Derbyshire Police, said he was encouraged by the response.
"They have taken on board my promise that we will treat them sensitively and in confidence," he said.
"It is now vital that other people do the right thing and talk to us if they know anything that would help us further.
"I appreciate that it will be difficult for some people but they should put their trust in us. My appeal is do not wait any longer - come forward now and do the right thing."
The house is still the scene of forensic examination and is likely to remain so for some time, he added
Jade Philpott, 10, and brothers John, nine, Jack, eight, Jessie, six and Jayden, five, were pulled from the house by firefighters but were pronounced dead at the scene.
Mr and Mrs Philpott held a press conference five days later to thank the community for their support.
Detectives have confirmed the fire began inside the front door and an accelerant - most likely petrol - was used.
A trust set up to handle money raised for the family said it would continue its work despite the recent developments.
The DJ Trust, which is administering money donated to the family, has stated the cash was only ever being raised to cover the costs of the funeral arrangements for the children and is therefore unaffected by the arrests.
A spokesman added the six funerals would cost a huge amount of money but anything left over was likely to be donated to charity.
On Twitter it posted a message saying "Please Just Remember, the DJ Trust is hoping to raise enough for the 6 Angels, regardless (of) what's in the news, the 6 Angels were still taken."
The family attracted attention in 2006 when Mr Philpott asked the council for a larger house to accommodate his wife, girlfriend and 14 children.