Willington cylinder fire residents return home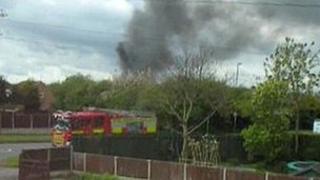 Dozens of villagers have returned to their homes after they were moved out during a gas cylinder fire.
People in 12 homes in Sealey Close, Willington, Derbyshire, were led to safety during a fire at a garage involving two acetylene cylinders.
Firefighters from Derbyshire spent the night cooling the cylinders with water.
Derbyshire Fire & Rescue Service spokesman Alex Johnson said the residents were sent to a community hall overnight for safety.
House 'shook'
She said the fire crews had to treat the cylinders like "unexploded bombs".
A 200m exclusion zone was put in place at noon on Thursday after it was confirmed the building contained two cylinders of highly inflammable oxyacetylene.
Children at Willington Primary School were kept inside and the school contacted parents on Thursday to alert them to the situation.
Resident Richard Steele said: "We heard a bang and I looked out of the back window because the house had shook.
"At first I thought a house was on fire but then I saw it was the neighbour's garage, so we got out of there as quickly as we could."
No-one was injured in the fire.