Kinder Mass Trespass 'should be taught in schools'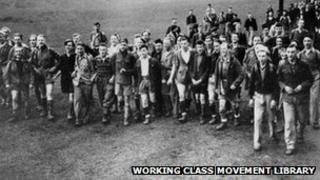 A mass trespass in the Peak District was so significant that it should be taught in schools, it has been claimed.
Broadcaster Stuart Maconie made the comment at an event to mark the 80th anniversary of the Kinder Mass Trespass.
The 1932 protest saw hundreds of ramblers walk on to private land on Kinder Scout, in Derbyshire, to assert their "right to roam".
Following the protest, five men were arrested and imprisoned.
Maconie said: "It is as significant an event in our history as any coronation of a king or queen and it should be taught in every school."
He praised the actions of Benny Rothman, a communist mechanic from Manchester who led the walkers up Kinder Scout - which in the 1930s was used to keep grouse for rich landowners.
The protest originated from the "long-standing tradition of dissent and idealism, which existed in the rambling movement", the broadcaster said.
'Naive idea'
Mr Rothman, who died aged 90 in 2002, was interviewed by the BBC in the 1980s.
He said: "It was possibly a naive idea that if enough ramblers went on a ramble, no group of keepers could stop them because there would be more ramblers than keepers.
"We went up the bank from William Clough in one long line and as we went up the bank, the person in charge of the keepers gave instructions to the keepers to come down the bank and meet us half way.
"They did that and there must have been a dozen or slightly more brandishing their sticks and shouting 'get back'.
"Of course we just ignored them or pushed them aside until we got to the top."
Other speakers included National Trust director general Dame Fiona Reynolds, who told a group of schoolchildren: "It is sobering to think that, unlike you, one in five children in this country don't get the chance to go out into the countryside.
"We are paying tribute today to the event of 80 years ago which gave us places like Kinder Scout, where we can all enjoy the freedom of the hills."
Kate Ashbrook, president of the Ramblers' Association, told the audience: "We cannot be complacent.
"The threats which the trespassers fought are still very much with us, but in a different guise.
"We live in uncertain times, where finance comes before freedom."