London Marathon bid to help war widows' charity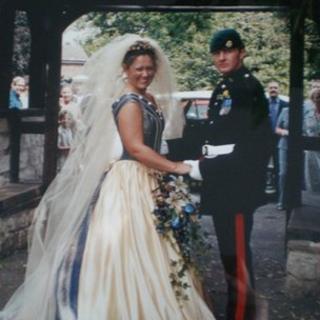 A Derbyshire woman whose Royal Marine husband died 2001 is in training for the London Marathon to raise money to support war widows.
Janine Fountain, 40, from Chesterfield, decided to take part as gratitude for the help she received from the Army Widows' Association charity.
Her husband, Steve, was in the Royal Marine Commandos while she was in the Royal Military Police.
She said she was "very emotional" about her marathon challenge.
Mrs Fountain, who works as a volunteer for the Army Widows' Association alongside her full-time job at the Coroners' Office in Sheffield, said: "I have experienced conflict environments from both a soldier's perspective and as a wife, so I can empathize with those directly affected.
"I can totally relate to the despair that wives, girlfriends and family members are going through.
"The money that we raise allows us to assist widows and their families through counselling and ongoing support which is crucial in a family's life journey following death."
Mrs Fountain said she had been getting up at 04:00 BST to train for the marathon as well as regularly visiting the gym.
"Being ex-military you have a certain level of fitness but I am nowhere near as fit as I used to be."
She said she hoped to complete the London Marathon, which takes place on 22 April, in under five hours and raise about £3,000.
"I feel excited and quietly confident. I know I'll do it," she added.