Beeley's Dove Cottages to be turned into hotel rooms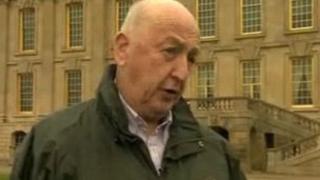 Residents in a village near Chatsworth House in Derbyshire have lost their battle to stop three cottages being used for holiday accommodation.
The Chatsworth Estate has been given permission to turn its grade-II listed Dove Cottages, in Beeley, into extra rooms for its Devonshire Arms hotel.
Locals had objected, saying the village had too much holiday accommodation and not enough affordable housing.
But the planning committee said it had no grounds to block the change.
The Peak District National Park Authority was handed a 61-signature petition by residents concerned about the growing number of holiday homes in the village.
'Engage with residents'
Land agent Nick Wood told the committee the Chatsworth Estate owned 31 houses in Beeley, of which 15 were used by estate staff and 12 were rented to residential tenants.
John Herbert, committee chairman, said: "We understand the concerns that residents have raised but there was no local needs occupancy restriction attached to these dwellings so they could have been rented to people from outside the village or let out as individual holiday cottages without the need for planning permission.
"However we are keen to make sure that local communities are consulted on plans that affect them so we are asking the trustees to engage with residents of Beeley on the future of the village."
Brian Bakel, a resident who opposed the plans, said: "We've got a very interesting village and we get a lot of visitors but in actual fact the residents of the village are beginning to be fewer and fewer.
"As a result, I deem it to be the death of the village."
The Chatsworth Estate said alterations to the cottages would be mainly internal and would preserve the historic fabric and layout of the buildings.