Chatsworth House open after restoration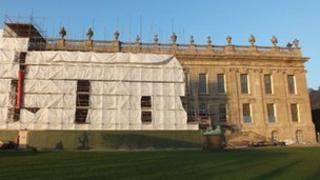 Chatsworth House in Derbyshire has opened for the new season following a £14m restoration project.
Scaffolding has been removed from the 300-year-old property - home to the Duke and Duchess of Devonshire - after 12 months of work.
The stonework, carvings and 24-carat gold gilding have been repaired and cleaned on the south and west fronts.
Further work will be carried out to clean the East front over the next few years.
The project follows the refurbishment of the interior in 2010, and is the most extensive work on the house since it was remodelled by the 6th Duke in the 1830s.
'Thrilling moment'
The Duke of Devonshire said: "It's absolutely wonderful to see the house as it must have looked to my ancestors.
"It has always been a thrilling moment to see the house come into view as you drive across the park and now that view has been made even more magical.
"With the years of blackened grime now removed from the stone, it looks truly magnificent and I'm delighted that it has been preserved for many future generations of visitors to enjoy."
Chatsworth's head of special projects, Sean Doxey, said: "Although the building was in reasonably good condition, it would have started to deteriorate very quickly if we hadn't stepped in now to repair the worst ravages caused by the weather."