Derby Cathedral peregrine falcons are online hit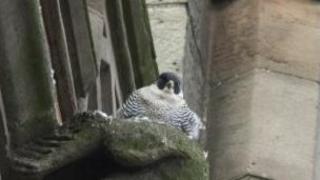 Peregrine falcons which successfully nested in Derby's cathedral tower have become an online attraction.
Derbyshire Wildlife Trust said hits to theproject's webcams and bloghad now passed the two million mark.
The group said viewers from more than 70 different countries had been watching the birds.
The project team said it had also captured a pair of peregrines breeding, marking an early start to the mating season.
Nick Moyes, from the wildlife trust, said: "The project has exceeded all our expectations since the nest platform was put up back in 2006.
"Checking through the video recordings at the weekend, I discovered a sequence showing the birds mating.
"The previous earliest date for mating was 8th March in 2009, so this is a full week earlier and suggests we may have eggs well before the end of the month."
The first pair of falcons nested on the cathedral's tower in 2006.