Ashbourne's Shrovetide football match under way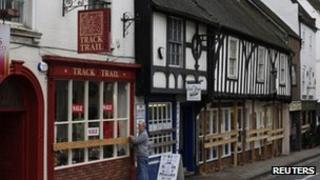 An annual Shrovetide event which sees hundreds of people take part in a football match has begun in a Derbyshire town.
The Ashbourne Shrovetide football game is thought to date back more than 1,000 years, although records are only available from 1890.
Shops boarded up their windows and businesses closed early as the game took over the town.
Despite being described as football, the game is like a huge rugby scrum.
Hundreds of players for each side - called the Up'ards and Down'ards, depending on which side of River Henmore you were born - battle in the streets to get the hand-painted cork-filled ball to goals three miles apart.
The game is played over two days - Shrove Tuesday and Ash Wednesday - and often lasts into the night. The match starts at 14:00 GMT on both days.
Two people are given the "Shrovetide honour" of starting the game by throwing the ball into the waiting crowd.
The game has attracted visitors and media from all over the world, including a television crew from Japan.
This year, Dr Paul Kirtley, a GP in Ashbourne for 32 years, officially started the match.
On Ash Wednesday, deputy mayor and businessman Steve Bull will throw the ball into the "hug" (scrum) from the Shaw Croft plinth.
Before the match began, about 500 people sat down to a Shrovetide lunch at Ashbourne Leisure Centre.
Goals are mill wheels set in huge stone plinths on the banks of the Henmore Brook at the sites of two former mills.
To score, a player must stand in the Henmore and tap the ball three times against the wheel.
Scoring means you will be carried back into the town by your team shoulder-high and cheered by hundreds of spectators.
The game received royal assent in 1928 when the Prince of Wales, later Edward VIII, threw the ball.
Prince Charles started the game in 2003.