Chesterfield Royal Hospital norovirus outbreak shuts beds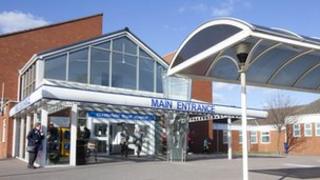 A quarter of wards at a Derbyshire hospital have been closed to admissions after an outbreak of norovirus.
The trust at Chesterfield Royal Hospital said it had asked visitors to avoid coming to adult in-patient wards.
Four wards are now closed to new admissions, a hospital spokesperson confirmed.
Staff have also succumbed to the virus and hospital bosses said they were in "considerable danger" of not being able to function.
In a statement, the trust said: "With deep regret the board of directors at Chesterfield Royal Hospital has taken the unprecedented step of closing the hospital to all visitors to adult in-patient wards with immediate effect.
"This is to try and resolve the outbreak of norovirus currently affecting eight of our wards - with many patients and staff succumbing to the illness."
Norovirus, the winter vomiting bug, causes violent sickness and diarrhoea.