Derby's Joseph Wright gallery to reopen after revamp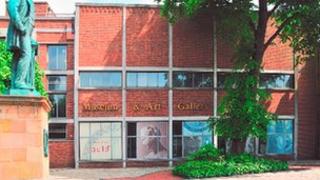 An art gallery at a Derby museum is set to reopen after a four-month long refurbishment.
The Joseph Wright Gallery, operated by Derby City Council, has been redecorated and some paintings have been cleaned and restored during the £150,000 revamp.
The gallery, which first opened in 1882, features paintings by 18th Century Derby artist Joseph Wright.
It will reopen to the public on 25 February.
'Very exciting'
Wright was renowned for his paintings on scientific and industrial themes but also painted landscapes, portraits and subjects from literature and contemporary history.
The refurbished gallery would allow a changing display of drawings and works on paper, allowing some to go on show to the public for the first time, the council said.
Lucy Salt, keeper of art at the gallery, said the cleaning had brought out details not previously seen in some of Wright's work.
Speaking about his painting A Bridge Through A Cavern, she said: "It was always thought that the cavern was just a frame for the picture but now we can see lots more detail. It is very exciting."
Councillor Hilary Jones, cabinet member for leisure and culture, said: "Joseph Wright paintings reflected Derby's historic reputation for scientific and engineering prowess.
"His exquisite use of light is beautifully demonstrated throughout Derby's internationally recognised collection.
"The newly refurbished Joseph Wright of Derby Gallery at Derby Museum is truly a national treasure."
Derby Museums holds the largest collection of works by the artist, with 34 oil paintings and over 300 drawings and prints, original frames, personal items and documents.