Bombardier confirms 'short-term future' of Derby plant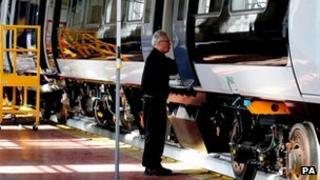 Derby trainmaker Bombardier has announced it has secured enough work to guarantee its short-term future in the city.
The firm had been reviewing its UK operations since losing out on a £1.4bn government contract in June.
The Department for Transport was criticised after selecting German rivals Siemens as its preferred bidder to build 1,200 Thameslink carriages.
Bombardier announced the news to staff at a series of meetings.
About 1,000 contractors and 200 permanent staff have been laid off at the Canadian-owned firm's Derby plant since the Thameslink decision, leaving a workforce of just under 1,600.
'Brief respite'
Unions, politicians and workers mounted a high-profile campaign urging the government to reverse its decision but it has flatly refused saying the Siemens deal offered better value for taxpayers.
In December the trainmaker won a £188m contract to build 130 carriages for rail firm Southern.
Now it has decided it has enough work to guarantee jobs in the immediate future.
Bombardier did not say exactly how long it was guaranteeing its future in the city for.
Unite assistant general secretary Diana Holland said today: "Bombardier's Derby workforce are highly skilled and make fantastic products. They've had a lot to endure over the past 12 months. Now at least there is some breathing space.
"The government cannot afford to repeat the mistakes it made over the Thameslink contract in future procurement decisions. We are not asking for favours, we are asking for fairness.
"The Department for Transport must now construct the bidding process for new train contracts so that UK-based manufacturers can compete on a level playing field."