Denby Pottery unveils hotel and activity centre plans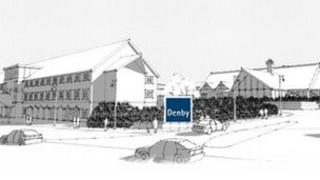 A Derbyshire pottery firm has unveiled plans for a new hotel and outdoor activity centre, which it says could create 600 new jobs.
Denby Pottery wants to build the 80-bed hotel along with a restaurant, garden centre and a new warehouse on its Derby Road site in Denby.
The plans have been lodged with Amber Valley Borough Council.
They will be on show at Bourne's Restaurant at Denby Pottery on 20 February.
The proposals also include the refurbishment of part of the firm's current factory.
Garry Biggs, Denby's managing director, said: "We believe that this development will be a real boost for Denby and Derbyshire as a whole.
"We remain committed to maintaining manufacturing at the historic home of Denby Pottery, and we believe this development will help secure the long-term future of the site."
Denby Pottery said its visitor centre, which currently employs 95 people, attracts about 200,000 people a year.
The company, which was founded in 1809, was the subject of a £30m management buyout in 2009.