Planning inquiry into Derbyshire Royal Infirmary site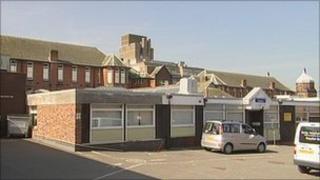 A planning inquiry has begun into the future of the former Derbyshire Royal Infirmary site.
Derby Hospitals NHS Trust put forward proposals for a new Morrisons store and 400 houses on the land on London Road.
But in September, Derby City Council's planning committee voted unanimously to defer a decision on the plans because of concerns about the store.
The trust lodged an appeal against the delay, with the inquiry expected to last up to three days.
The council told the inquiry it was concerned the supermarket would be built in place of the locally listed Devonshire House building.
Councillor Mike Carr, vice-chair of the planning committee, said: "We don't believe we have seen robust justification for putting a supermarket on top of the site where Devonshire House currently sits.
"They need to prove to us that it isn't viable to put the supermarket on another part of the site where they'll be the same benefit without the destruction of Devonshire House."
But the trust said putting the store anywhere else would see the whole project fail.
The inquiry is being held at the Derby Conference Centre.