Derbyshire campaign to protect war memorials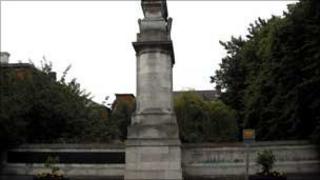 A new group in Derbyshire is calling for better security at all war memorials in the county.
The Derbyshire City and County War Memorials Committee is urging organisations to treat war memorials with an anti-theft product.
There are about 1,500 memorials to people who died serving in the world wars in the county, and 300 in Derby.
They range from cenotaphs in towns to plaques in community rooms, public buildings and business premises.
The committee has representatives from Derbyshire County Council, Derby City Council, the Royal British Legion and the National Inventory of War Memorials.
It is urging organisations to mark their memorials with SmartWater, which contains a chemical code that helps police trace any stolen goods.
Two men were jailed in 2010 for stealing four brass plaques from the Midland Railway War Memorial in Derby.