Derby velodrome plans prompt Health and Safety Executive concern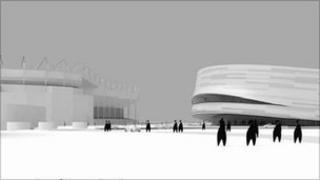 The Health and Safety Executive (HSE) has said Derby's plans for a velodrome could be rejected on safety grounds.
It said gas storage facilities near the Pride Park development could be the cause of a major accident.
But the HSE said the risk could be dealt with during the planning process and that its objection was not final.
The city council said the HSE's response was automated and that it would pursue "full and formal consideration" of the plans.
The HSE said the plans, if given the go-ahead, should also be referred to the Office for Nuclear Regulation.
'Unacceptable' risks
The site is less than a kilometre from Rolls-Royce's facility on Raynesway, which does work involving nuclear materials.
The Environment Agency also raised objections over possible flooding.
Andrew Pitts, a planning liaison officer at the agency, said in a letter to Derby City Council; "The risk to life and vehicles within the car park from fluvial inundation would be unacceptable if the development were to be allowed."
But he added that the plans could be adapted in a way which would satisfy the agency.
The £20m velodrome and arena would have a capacity of 5,000 people and could host several major events each year.
Derby City Council is expected to decide on the planning application in the spring.