Elvaston Castle project faces new delays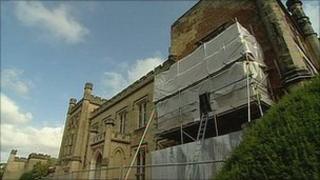 The search for a new use for a Derbyshire listed building may have to start again, it has emerged.
The county council has said it cannot afford more than £6m of repairs to Elvaston Castle and had been looking for someone to take it over since 1999.
Developer Highgate Sanctuary is reported to have significantly altered plans for a golf course in the grounds after criticism from English Heritage.
Now the council has said the changes may force it to retender the lease.
Elvaston Castle - mainly a 19th Century country house - stands in more than 200 acres of parkland and gardens which attract about 300,000 visitors a year.
Public access
But the condition of the building itself means it is rarely open to the public.
A spokesman for Derbyshire County Council said: "We are now considering whether we need to go back out to the market. This is because English Heritage had concerns over the scale of the proposed development.
"If we do go back to the market and choose another developer then we would carry out a full public consultation. Whatever is decided public access to the grounds will remain."
Highgate Sanctuary has not commented on the situation.