Derby Hippodrome survey deadline extended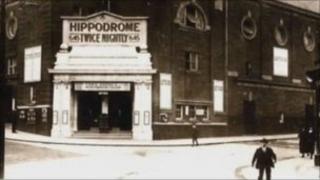 Campaigners trying to save an historic Derby theatre say they are "surprised" by the high number of responses to a survey about the building's future.
The Grade II listed Hippodrome building on Green Lane, which has not been used for years, was damaged by repair work in 2008 and more recently by fire.
The Hippodrome Restoration Trust said it had extended the survey deadline due to the high number of responses.
Anyone who wants to submit their opinions now has until 1 February.
Joan Travis, from the Hippodrome Restoration Trust, said: "As soon as the survey is finished, we can look at what they say and hopefully move to the next stage which is acquiring the building.
"To bring the building back, we are looking at about £20m to get it all sorted but it can be done in stages and there are all sorts of possibilities depending on what it will be used for."
Legal disputes
Ms Travis said about 400 surveys had been returned since the beginning of January.
The building has been at the centre of legal disputes between the city council and owner, developer Christopher Anthony.
The council successfully obtained an injunction against Mr Anthony in 2008, preventing him carrying out further work without permission.
It then took him to court for causing the damage but a judge ruled Mr Anthony did not have the money to pay any fine.