Derbyshire PC jailed for sex with prostitute on duty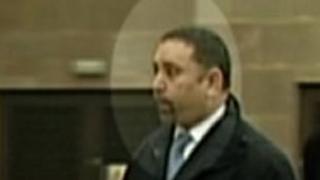 A Derbyshire police officer has been jailed for two and a half years for having sex with a prostitute while on duty.
PC Jasbir Dhanda, 52, of Littleover, Derby, was found guilty in six of 11 charges against him including three counts of misusing a police database.
Judge Michael Stokes told Dhanda he abused his position to further a sexual relationship.
Dhanda was found not guilty of having sex with another prostitute.
During the trial, one complainant told the court how she first met the officer in 2000 before he started to visit her regularly for sex and drugs.
The woman, who was then a prostitute addicted to heroin and cocaine, said she thought he was one of the "good guys".
'Great regret'
Dhanda was arrested in August 2010.
It followed a complaint made by a woman that he had performed a sexual act in her home and was engaging in sexual activity with her while on duty.
Two other women later made disclosures about Dhanda.
Dhanda was convicted in three counts of misconduct in public office and three counts of obtaining personal data using a police database.
He was found not guilty of two other counts of obtaining personal data with a police database.
Judge Stokes said: "It is a matter of great regret to see a police officer of almost 17 years' service standing in the dock convicted by a jury of misconduct in a public office in circumstances where you have abused your position as a constable to further a sexual relationship.
"You were taking advantage sexually of a woman who you knew to be highly vulnerable and had real difficulties in her life, and who was someone who, if she complained, was unlikely to be taken seriously."
The judge took into account that Dhanda has an incurable degenerative illness.
Ch Supt Jack Atwal, from Derbyshire Police, said: "One of our main priorities is to protect vulnerable people. PC Dhanda has abused his position and the trust placed in him to exploit the vulnerable.
"His actions have brought dishonour to the uniform and office he held."
Dhanda has resigned from Derbyshire police force.