Call to return Saddam Hussein's 'buttock' to Iraq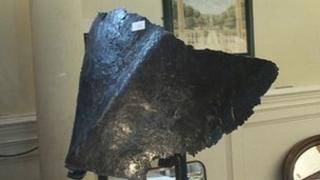 A former SAS soldier who took a "bronze buttock" from Saddam Hussein's statue in Baghdad has been asked to return it by the Iraqi government.
Nigel Ely, who runs his own art company in Derby specialising in war relics, used a sledgehammer and crowbar to grab the unusual memento in 2003.
The item had previously been for sale at auction, but failed to reach its reserve price of £250,000.
Mr Ely was questioned by police after the Iraqi Embassy got in touch.
The former SAS soldier claimed the 2ft (0.6m) chunk after the statue was brought down in central Baghdad at the end of Hussein's reign.
He had been planning to sell it at auction to help raise money for charity.
Amicable solution
A Derbyshire Police spokesman said: "Derbyshire Constabulary can confirm we have spoken to Mr Ely and his agents in relation to the piece of Saddam Hussein's statue he brought back to the UK.
"This follows a complaint from the Iraqi government via the Iraqi Embassy, which was initially made to the Metropolitan Police last week.
"This was passed on to Derbyshire as the agents and the statue are situated in Derby.
"The Iraqi authorities have requested the return of the statue parts as they believe it to be a part of their historical and cultural heritage.
"As the ownership is in dispute we have issued a notice to Mr Ely, under the Police and Criminal Evidence Act, advising him not to alter or dispose of the item until the matter is resolved."
The notice states that if Mr Ely were to sell the chunk, he would be committing a criminal offence.
Mr Ely said he hoped the matter could be resolved quickly as he had a potential buyer for the piece.
He said: "I would like to think that I can sell it and maybe split the proceeds 50/50."