Derbyshire police officer 'targeted women for sex'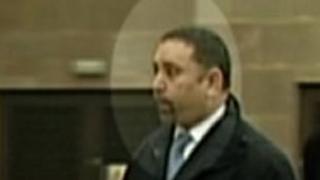 A Derbyshire police officer accused of misconduct in public office targeted vulnerable women for sex and drugs, a court has been told.
PC Jasbir Dhanda, 52, of Littleover, Derby, denies 12 counts of misconduct in a public office and of misuse of a police database.
Mr Dhanda was suspended following a complaint from a member of the public.
Nottingham Crown Court heard that one of the complainants was a sex worker who was addicted to cocaine and heroin.
'Cocaine request'
Prosecutor Neil Moore told the jury that Mr Dhanda had sex with two of the three complainants.
Mr Moore said: "He visited them at their homes in order to carry out a sexual relationship with them and in the third complainant's case in the hope that she would agree to take part in a sexual relationship."
He said Mr Dhanda had targeted the three women because they were vulnerable and because he did not believe they would report him.
Even if they did report him, Mr Dhanda thought their complaints would not be taken seriously due to the women's circumstances, Mr Moore told the court.
He said Mr Dhanda met one of the women after she complained to the police about an incident involving her ex-partner.
Mr Dhanda went round to her house the day after and touched her sexually before asking for her phone number and then visiting her house for sex two or three times a week, the court heard.
The defendant accessed the records of one of the complainants 100 times over a two-year period, Mr Moore said.
He is alleged to have told another woman, who worked as a prostitute, there was a warrant for her arrest but that he would not execute it if she got him some cocaine.
The trial continues.