Derby City Council submits £20m velodrome plans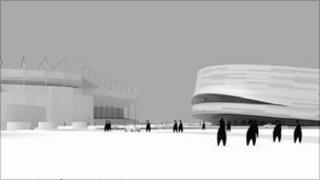 Plans have been submitted for a new £20m sports and concert venue close to Derby city centre.
The arena, which will feature a velodrome, sports courts and a 5,000-capacity concert space, is to be built on land next to Pride Park stadium.
Derby City Council's plans also include an outside cycle track which will loop around a nearby nature reserve.
The council said the new arena, due to open in February 2014, would replace some of its older sports centres.
It said: "Our existing facilities have served us well for a number of years but are now in poor condition with a maintenance bill that would run to many millions of pounds.
"The indoor and outdoor hubs will become beacons of excellence in the city."
The authority has said Queen's Leisure Centre will close and Moorways will be remodelled as part of its leisure strategy.
The council's planning committee is due to make a decision on the application in March, with work scheduled to start in June.
Once complete, the facility will also feature a gym, function rooms, badminton and basketball courts and a cafe.
The project is being overseen by construction firm Mace, which is also redeveloping Derby's Council House.
The council said it was planning to sell the naming rights to the new venue, which is being built on land already owned by the authority.