Derbyshire blue badge charge rules defended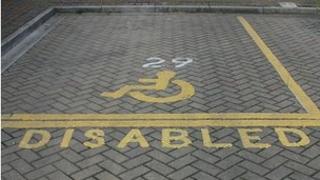 A new charge for issuing a disabled parking badge has been defended by authorities in Derbyshire.
Councils were given permission to levy the £10 fee by the government after enhanced security badges were approved.
Some blue badge holders said it was unfair that while Derbyshire and Derby councils had brought in the charge, neighbouring Staffordshire had not.
But officials have said the prospects of reduced fraudulent use meant the changes were welcomed by most.
The new electronically-printed cards began being issued this week.
Alvaston resident Bill Woodrow, who holds a blue badge, said: "I consider it as just another form of tax as I don't think it will improve matters.
"Hopefully it will stop some of the abuse but, unfortunately, I really don't think it will.
"I can afford to pay the £10 but I'm unhappy about the idea - it will not change things, it won't help me or people like me."
'Worth it'
Ruth Skelton, Derby City Council's cabinet member for adults and health, said: "When we decided that we wanted to do this, we went to talk to the disabled diversity forum and other disabled groups.
"The general view was that in light of the fact the service was going to improve, with more and better activities to deal with fraud, that it was worth it."
A spokesman for Derbyshire County Council said: "The charge is payable every three years, meaning that it will cost blue badge holders the equivalent of 1p per day to be able to park mainly for free, with dedicated parking spaces and where other drivers can't park."
Staffordshire County Council said many of its areas were rural and because of that did not want to jeopardise people's mobility any further.